Ink Storage Jars, Containers and Bottles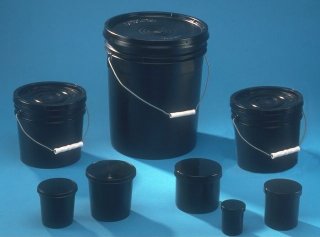 We offer a range of containers for inks, paints and fluids. More details on what we can offer are below.
UV PROTECTIVE CONTAINERS WITH SCREW TOP LIDS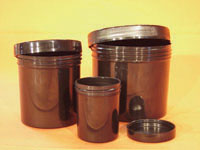 Special storage containers are required to protect your UV-curable ink and coating inventory from ambient UV light sources (sunlight, fluorescent lights). These black high density CONTAINERS WITH SCREW TOP LIDS filter ambient UV light. Polyethylene construction "breathes," allowing oxygen contact with UV contents to inhibit polymerization. These combined features increase shelf stability and protect your investment. Designed for high impact resistance. Available in 4 oz, 16 oz, and 32 oz sizes. Sold in bulk quantities.
INDIVIDUAL SPECIFICATIONS:
Part Number - J001-013A: 4 OZ SCREW-TOP CONTAINERS - PACK OF 100

Part Number - J001-013B: 4 OZ SCREW-TOP CONTAINERS - PACK OF 1200

Part Number - J001-015A: 16 OZ SCREW-TOP CONTAINERS - PACK OF 560

Part Number - J001-018B: 32 OZ SCREW-TOP CONTAINERS - PACK OF 240

DISPOSABLE MIXING CUPS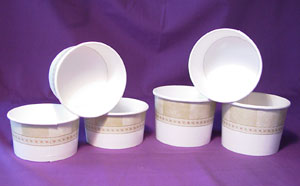 These DISPOSABLE MIXING CUPS are perfect for ink mixing. Designed with a special no wax coating, they are durable enough for industrial use yet disposable for ease of use. The economical pricing allows you to simply toss them away when you're done--avoid the messy cleanup.

NOTE: These paper containers are not intended for use as storage containers for UV materials. UV light can penetrate the paper containers causing the UV material to dry.

Part Number - J001-038: 8 OZ CUP, QTY 500 units

Part Number - J001-039: 12 OZ CUP, QTY 500 units

Part Number - J001-052: 16 OZ CUP, QTY 500 units

WIDE-MOUTH POLYETHYLENE BOTTLES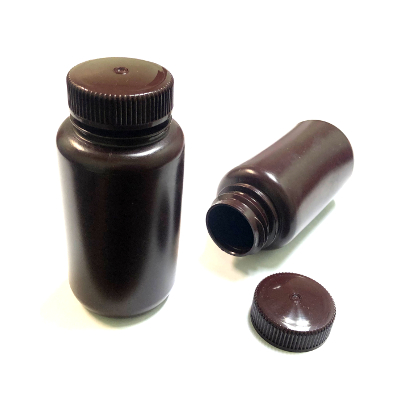 Made especially for storing photosensitive chemicals and formulations, CON-TROL-CURE® WIDE-MOUTH POLYETHYLENE BOTTLES block UV light to prevent premature polymerization of the contents. Made of high density amber polyethylene with polyallomer screw caps. They feature a wide mouth for easy filling and dispensing of materials.

Part Number - J001-029: 1000ml / 32 OZ BOTTLE - 53 mm cap size, Case of 24

Part Number - J001-030: 500ml / 16 OZ BOTTLE - 43 mm cap size, Case of 48

Part Number - J001-031: 250ml / 8 OZ BOTTLE - 43mm cap size, Case of 72

Part Number - J001-032: 125ml / 4 OZ BOTTLE - 38 mm cap size, Case of 72

CONTAINERS WITH SNAP ON LIDS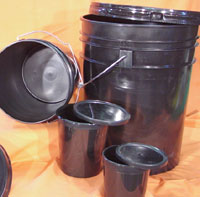 Special storage containers are required to protect your UV-curable ink and coating inventory from ambient UV light sources (sunlight, fluorescent lights). These black high density CONTAINERS WITH SNAP ON LIDS filter ambient UV light. Polyethylene construction "breathes," allowing oxygen contact with UV contents to inhibit polymerization. These combined features increase shelf stability and protect your investment. Designed for high impact resistance. Item number J001-003 (and J001-003A) is made to safely ship your curable liquids: the lid will not pop off during shipping. Sold in bulk quantities.

PINT-SIZED SNAP-ON CONTAINERS: Part Number - J001-001A: Pint Container With Snap On Lid, Pack of 100

Part Number - J001-001B: Pint Container With Snap On Lid, Pack of 1000

QUART-SIZED SNAP-ON CONTAINERS: Part Number - J001-002A: Quart Sized Container With Snap On Lid, Pack of 60

Part Number - J001-002C: Quart Sized Container With Snap On Lid, Pack of 1000

Part Number - J001-003A: Quart Sized Heavy Duty Container With Snap On Lid, Pack of 900

1 GALLON SIZED SNAP-ON CONTAINERS: Part Number - J001-007A: 1 Gallon Sized Container With Snap On Lid, Pack of 210

Part Number - J001-008A: White, 1 Gallon Sized Container With Snap On Lid, Pack of 225

5 GALLON SIZED SNAP-ON CONTAINERS: Part Number - J001-010A: 5 Gallon Sized Container With Snap On Lid, Pack of 168

OTHER PRINTING & INK HANDLING EQUIPMENT WE OFFER:
| PUMPS INK KNIFES, SCRAPERS, SPATULAS & STIRRERS ANTI-STATIC PRODUCTS TEMPERATURE MEASUREMENT SCREEN PRINTING | FILM THICKNESS CONTROLS STORAGE CONTAINERS DENSITOMETERS & SPECTRODENSITOMETERS SURFACE TENSION MEASUREMENT FLEXO PRINTING SUPPLIES |
| --- | --- |