LAMP MAINTENANCE EQUIPMENT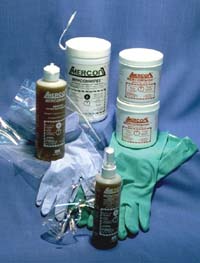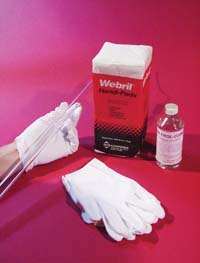 We offer mercury clean up kits, lamp reflector cleaning kits and mercury clean up pads for maintenance in order to keep your UV lamps and reflectors clean and in the event of a broken lamp, safe mercury spill cleaning and removal. See below for more details.
MERCURY CLEAN-UP KIT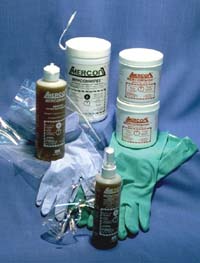 Mercury is one of the most toxic chemicals in our environment. It evaporates at room temperature, producing an invisible, tasteless, odourless, and extremely dangerous vapour. Mercury will continue to emit toxic mercury vapour for years when left unattended. Be prepared with the CON-TROL-CURETM MERCURY CLEAN-UP KIT which answers the need for safe disposal of mercury when lamps shatter. Merconvap, the kit's primary element, is a formulation made of propylene glycol, sulfates, iodine, soluble copper, and other chemical compounds. Merconvap is 100% effective as a mercury suppressant and decontaminate. On contact with mercury or mercury-rich waste, it immediately inhibits mercury vapour emission into air and water. It prevents methylation of mercury in water. Completely biodegradable. The kit consists of: • 2 Mercontainers, made of plastic with a Merconvap-charged urethane sponge liner to safely store mercury-rich wastes (16 oz). • 1 Merconspray for removing toxic mercury vapor from the air in seconds. Also excellent for spill clean-up in closed areas and for hard surface decontamination (8 oz). • 1 Merconvap Liquid for decontaminating floors, walls, countertops, and other hard surfaces. Ideal for floor cracks and hard-to-reach areas (16 oz). • 1 container of Merconwipe towelettes, precharged with Merconvap concentrate, cleans countertops, hands and equipment. A pop-up dispenser makes it easy to use. Contains cleansing and decontamination agents (160/container).

The CON-TROL-CURE® MERCURY CLEAN-UP KIT has a shelf life of approximately 2 years.
ORDERING INFORMATION
Part Number - A002-018 MERCURY CLEAN-UP KIT

LAMP REFLECTOR MAINTENANCE KIT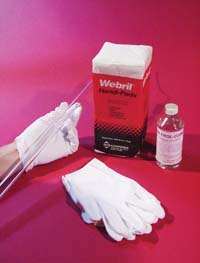 Regular maintenance is necessary to ensure your UV system continues to deliver maximum UV output. This LAMP REFLECTOR MAINTENANCE KIT includes everything required to clean UV lamps and reflectors: cleaning fluid, wiper pads, cotton gloves, and maintenance information. Cleaning Fluid: Lamp and reflector deterioration can be accelerated by dust, dirt, and fingerprints accumulated from poor cleaning or improper handling. To ensure optimal performance, lamps and reflectors should be cleaned before operation. This solution cleans the quartz sleeve and aluminium reflector without leaving behind residue. Lint-Free Wipes: These conveniently sized cotton Webril® 4" x 4" pads are 100% non-woven material will not contaminate cleaning fluid or scratch surfaces. 100/box.

Cotton Gloves: 100% cotton gloves prevent fingerprints from damaging lamp performance. Once a lamp is energized, prints and dust become etched into quartz sleeve and reduce UV output to unwanted infrared.
ORDERING INFORMATION
Part Number - A002-017 LAMP REFLECTOR MAINTENANCE KIT

MERCURY CLEAN-UP PAD
Quickly and conveniently capture spilled mercury beads! • Lid features 'absorbent' foam pad on interior surface • Replacement foam pad available • Dispose of mercury by approved disposal method In case of a mercury spill, remove the lid and press the pad on the inside of the lid firmly into the spilled mercury. This pressure results in the pad taking up the mercury and becoming saturated with the metal. Replace the mercury-laden lid on the jar. A perforated plate in the jar is pressed up against the mercury-filled pad, and the mercury is released into the jar as a result. Dimensions: 105 x 48mm O.D. (4-1/8" x 1.9") high.
ORDERING INFORMATION
Part Number - A002-022 MERCURY CLEAN-UP PAD

UV CURING EQUIPMENT:
| UV MEASUREMENT UV LED LAMPS UV CURE CHAMBERS UV FILTERS & GLASSES OZONE DETECTION | REFLECTORS UV SPOT CURE LAMPS CURING EQUIPMENT SPARES UV LAMPS LAMP MAINTENANCE |
| --- | --- |