Epoxy Dispensing Tools (CDN)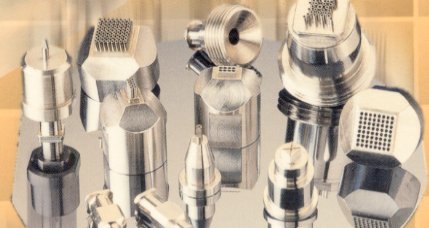 Static Single or Multi Needle/Hole Dispensing
In most programmable dispensing pumps, typical nozzle designs have been optimized to dispense consistent pattern and volume. Most of these standard nozzles have a distinct chamfered feature that reduces surface tension between the needle and material at the point of separation, therefore less probable to tailing or bridging. Stand-off pin (SOP**) option is available to control the allowable distance between the needle tip and substrate.

Default Nozzle or needle height HT is .100" / 2.50mm. Specify if otherwise required. Adaptor & body example. CG / SG / SN Face

For die size from .100" / 2.50mm and above, the multi-needle (MN) or multi-hole (MH) have found wide acceptance in situations where perfect epoxy coverage is required. Any custom hole/needle layout possible if based on available hole or needle dimensions.
STANDARD ADAPTOR HEADS ( EDT-AH ) AND BODY STYLES (EDT-MXX)




Note: DD is the Die Diagonal and corresponds to the maximum size compatible with a specific body type. For larger die, please consult technical support personnel at our nearest office for a suitable type.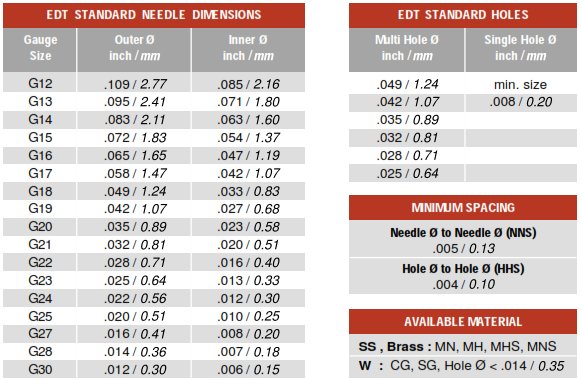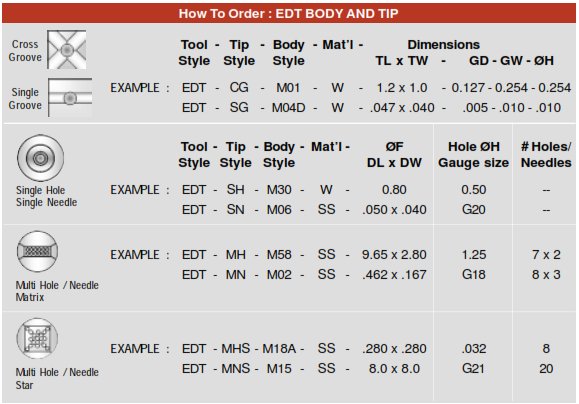 Adaptor Heads come with 2 types of Luer locks that can be fitted into common epoxy barrel or syringe Luer locks : Standard Flat Luer (no need to specify) Double Lead Thread "DLT" Luer (Specify "DLT" after part number)

ORDERING INFORMATION (PLEASE ADVISE REQUIREMENTS & QUANTIY FOR QUOTE OR ASSITANCE) Part Number - Epoxy Dispensing Tools (EDT-TIP-STYLE-MATERIAL)

OTHER DISPENSING PRODUCTS WE OFFER:
| EPOXY DISPENSING TOOLS COMMON DISPENSING NOZZLES MICRO DISPENSING NOZZLES DISPENSING EQUIPMENT | LUER DISPENSING NOZZLES EPOXY DISPENSING NOZZLE RUBBER EPOXY STAMPING TOOLS STEEL EPOXY STAMPING TOOLS |
| --- | --- |