Bonding Tools & Wire Bonding Capillaries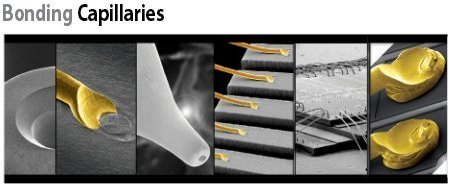 SPT (Small Precision Tools) offer a superb range of die attachment tools, dispensing tips and nozzles, wire bonding capillaries and wire bonding wedges. Also available is a range of accessories such as capillary unplugging wire and capillary unplugging probes, epoxy stamping tools, EFO-wands, push up needles (die eject probes), die shear tools and spanking tools for soft solder die bonding.

Die Pickup Tools Dispensing Nozzles and Epoxy Stamping Tools Wire Bonding Capillaries Wire Bonding Wedges

Available in a wide range of materials and designs to suit your needs. We have a range of ESD safe materials and a wide range of material hardness to suit your application. Where a standard design is not available, SPT can offer custom tool solutions.

SPT tools can be used on any of the following bonding machines: ASM, CHO, F & K Delvotek, Hybond, H & K, K & S, MEI, Orthodyne, Palomar, West Bond, and many other bonders.
Got a different manufacturers part or information ?
No problem, we can offer equivalent parts, just contact us for a no obligation quote.