UT Non-Fine Pitch Capillaries For Wire Bonding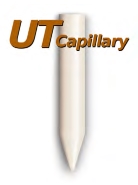 UT Capillary - Non-Fine Pitch Solutions For Standard Bonding Applications
UT capillary series is geometrically designed for non-fine pitch, and non- bottleneck type used for gold and copper wire application. The main design feature is main taper angle (MTA) either 30° or 20° MTA with larger tip size 140µm and above. The UT design has become an ideal choice for LED (light emitting diodes) application. SPT's UT series of bonding capillaries offer a superb range of wire bonding capillaries suitable for all non-fine pitch applications.

UTF A newer addition to the UTS range offers a 4° face angle available in AZM material options UTS Very popular series with 8° face angle available in AZM material options UTE Also recently added to give an 11° face angle, available in AZM material options
Capillary Part Number Selection Guide
The capillary design selection guide is always based on specific device & package configuration, wire type, and wire bonder. The selection of capillary part number process is simplified as follows: Capillary Tip The selection of capillary tip design is determined by the device and metallization, bond pad pitch, bond pad opening, wire size, target mashed ball diameter, and critical loop height to derive the hole diameter(HD), chamfer diameter (CD), chamfer angle (CA), tip diameter (T) and face angle (FA). Shank Style The shank style selection is characterized by geometrical design of the capillary bonding tool as dictated by specific device and / or package configuration. Surface Finish The selection of a particular capillary tip surface finish hinges on whether the application is for gold or copper wire bonding. Material Capillary material selection for optimum tool life performance for a given bonding application. Wire Type The proper selection of capillary design is a resultant of the various wire bonding considerations.

(UT) Non-Fine Pitch Part Number Selection
Infinity 3X Longer Tool Life
SPT 'Infinity' capillary material extends the tool life up to 3X its original tool life. This option is available on many tools and is a proprietary process SPT use to increase tool life. ORDERING INFORMATION (PLEASE ADVISE REQUIREMENTS & QUANTIY FOR QUOTE OR ASSITANCE) Part Number - UT Series Non-Fine Pitch Bonding Capillaries


UT Ordering Information Datasheet
BONDING CAPILLARIES & ACCESSORIES WE OFFER:
| UT NON-FINE PITCH CAPILLARIES QFN PACKAGE COPPER & GOLD WIRE BONDING CAPILLARY COPPER WIRE BONDING CAPILLARY ENHANCED STITCH BONDABILITY ADVANCED BONDING APPLICATIONS AZR LONG LIFE MATERIAL FOR CU WIRE BONDING INFINITY 3X LONGER TOOL LIFE | BALL STITCH ON BALL (BSOB) STUD BALL BUMPING SPECIAL CAPILLARY TAPER DESIGNS CAPILLARY UNPLUGGING WIRE (CUW) CAPILLARY UNPLUGGING PROBE (CUP25PB) EFO WANDS |
| --- | --- |