Capillary Unplugging Wires (CUW)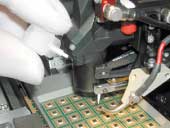 Capillary unplugging wire offers an easy and economical way to unplug clogged capillary. This is especially useful for engineers during evaluation as the gold ball tends to get clogged in the capillary holes since the optimum process parameters are not defined yet. The unplugging wire has also proven to be helpful to production operators when they have difficulties threading the wire through the capillary. Instead of changing to a new capillary, the unplugging tool can help to push out gold residues, foreign particles and gold ball out of the hole. This can be done by simply inserting the tip of the unplugging tool from the top of the capillary and gently raises and lowers the wire within the capillary.
Advantages:
Clogged capillaries can easily be unplugged, hence minimize capillary wastage before end of tool life. User friendly. Removal of capillary from the transducer is not necessary as the flexible tip of the unplugging tool can be inserted from the top of the capillary as shown Optimize tip configuration to handle a wide ranges of capillary hole size. Each unplugging tool can be used more than dozen of times thus saving unnecessary wastage of capillary and production down time. Especially useful for ultra fine-pitch capillaries as the capillary hole gets clogged easily due to limited gold wire clearance in the hole.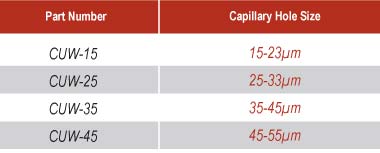 ---
ORDERING INFORMATION (PLEASE ADVISE REQUIREMENTS & QUANTIY FOR QUOTE OR ASSITANCE) Part Number - CUW Capillary Unblocking Wires for Bonding Capillaries


Capillary Unblocking Wire Brochure
---
BONDING CAPILLARIES & ACCESSORIES WE OFFER:
| UT NON-FINE PITCH CAPILLARIES QFN PACKAGE COPPER & GOLD WIRE BONDING CAPILLARY COPPER WIRE BONDING CAPILLARY ENHANCED STITCH BONDABILITY ADVANCED BONDING APPLICATIONS AZR LONG LIFE MATERIAL FOR CU WIRE BONDING INFINITY 3X LONGER TOOL LIFE | BALL STITCH ON BALL (BSOB) STUD BALL BUMPING SPECIAL CAPILLARY TAPER DESIGNS CAPILLARY UNPLUGGING WIRE (CUW) EFO WANDS WINDOW CLAMPS & HEATER BLOCK |
| --- | --- |