AZR Capillary Material - Long Life Copper Bonding Capillaries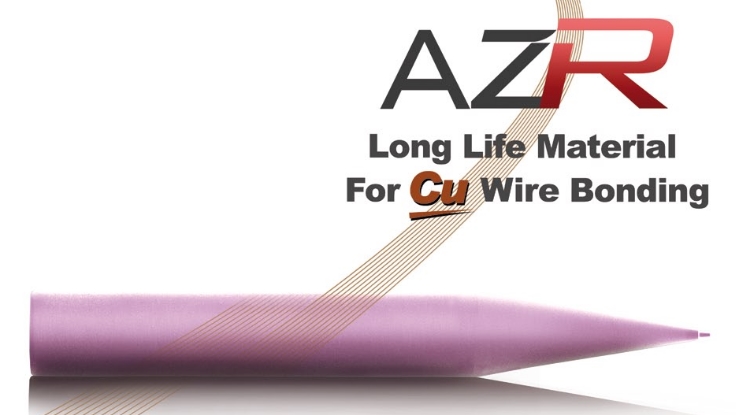 Excellent Fine Grain Material Suitable for Copper Wire Bonding. The introduction of SPT's new material AZR (specifically for copper bonding application), provides the avenue to extend its useful bonding tool life of at least 2x of Alumina Zirconia (AZ). The table shows the essential physical and mechanical differences between AZR and AZ material. The conversion of gold-to-copper wire has been successfully implemented from simple to complex device-package combinations for leaded (e.g. SOIC, QFP, QFN) and laminates, ranging from low-to-high pin counts. Embracing the economic benefits of using copper wire interconnect to compete in the electronic consumer driven market, the semiconductor assembly companies are constantly searching for methods to reduce the cost of ownership, and one of which is through cost per number of touchdowns from the capillary.

The microstructure in SPT's AZR material (Fig 1) is made of high purity, fine-grained homogenous Alumina Zirconia with Chromium Oxide totally dissolved in the matrix, a highly dense material with excellent hardness, most suitable for rugged metallization terrain used for copper bonding applications. The AZR mechanical properties are further enhanced using SPT's proprietary state-of-the-art thermal treatment process to ensure high material strength, by elimination of porosity through a combination of high pressure and exact sintering temperature. Plug & Play In actual bonding application, the bonding parameters previously defined for AZ (Alumina Zirconia) material can be used for AZR without the need to change existing settings. This important characteristic of the AZR material saves time and resources required of wire bond engineers to perform additional DOE evaluation and qualification. Extended Tool Life SPT's AZR capillary has proven to be at least 2x extended tool life in comparison with AZ, in terms of stitch pull readings as shown in the box & whisker graph: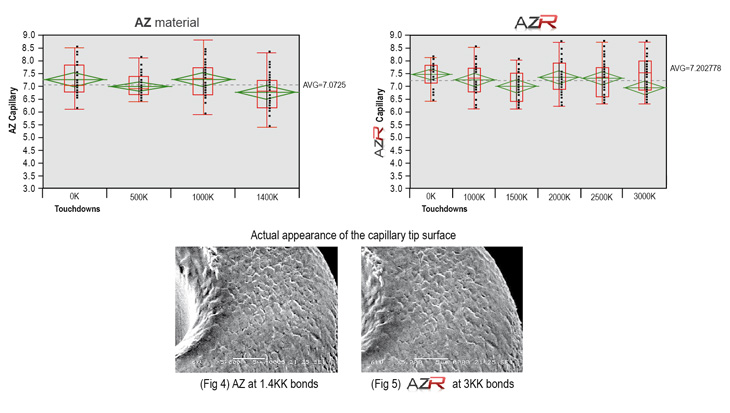 ---
Capillary Part Number Selection Guide
The capillary design selection guide is always based on specific device & package configuration, wire type, and wire bonder. The selection of capillary part number process is simplified as follows: Capillary Tip The selection of capillary tip design is determined by the device and metallization, bond pad pitch, bond pad opening, wire size, target mashed ball diameter, and critical loop height to derive the hole diameter(HD), chamfer diameter (CD), chamfer angle (CA), tip diameter (T) and face angle (FA). Shank Style The shank style selection is characterized by geometrical design of the capillary bonding tool as dictated by specific device and / or package configuration. Surface Finish The selection of a particular capillary tip surface finish hinges on whether the application is for gold or copper wire bonding. Material Capillary material selection for optimum tool life performance for a given bonding application. Wire Type The proper selection of capillary design is a resultant of the various wire bonding considerations.

Fine Pitch Part Number Selection
Infinity 3X Longer Tool Life
SPT 'Infinity' capillary material extends the tool life up to 3X its original tool life. This option is available on many tools and is a proprietary process SPT use to increase tool life.
---
ORDERING INFORMATION (PLEASE ADVISE REQUIREMENTS & QUANTIY FOR QUOTE OR ASSITANCE) Part Number - AZR Copper Wire Bonding Capillary Material


AZR Copper Bonding Capillary Material Brochure SPT-CAP-AZR-Brochure.pdf
---
BONDING CAPILLARIES & ACCESSORIES WE OFFER:
| UT NON-FINE PITCH CAPILLARIES QFN PACKAGE COPPER & GOLD WIRE BONDING CAPILLARY COPPER WIRE BONDING CAPILLARY ENHANCED STITCH BONDABILITY ADVANCED BONDING APPLICATIONS AZR LONG LIFE MATERIAL FOR CU WIRE BONDING INFINITY 3X LONGER TOOL LIFE | BALL STITCH ON BALL (BSOB) STUD BALL BUMPING SPECIAL CAPILLARY TAPER DESIGNS CAPILLARY UNPLUGGING WIRE (CUW) CAPILLARY UNPLUGGING PROBE (CUP25PB) EFO WANDS |
| --- | --- |