EFO Wands (EFO)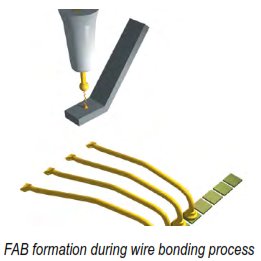 The importance of consistent free air ball (FAB) for fine-pitch (FP) and ultra-fine pitch (UFP) bonding applications has led to the development of new alloy material to improve the performance of the EFO wand. Together with a new proprietary process, consistent EFO sparking effect can be achieved with SPT EFO wands. SPT is capable of making customized EFO wands used on different types of bonder with precise dimensions and accuracy.
When a new EFO wand is first installed on the bonder, inconsistent sparking effect normally occurs, causing inconsistent FAB formation. It was also noticed that the spark, during firing tends to sway to the left or right during the initial sparks. This has the tendency to produce a tilted FAB as shown. This effect is mainly due to the inability of the new EFO to lead the current to flow from the same point.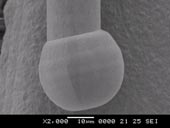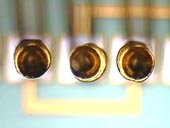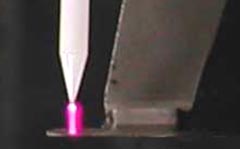 To eliminate such adverse effect, SPT has introduced a proprietary process whereby new EFO wands are subjected to continuous sparking similar to those seen on the bonder. Such process will ensure that the new EFO wands can achieve its desired performance without having to "season" them, thus causing production delay and yield loss.This process can be performed for a wide variety of EFO wands used for different types of bonders currently available in the market.
Advantages:
Consistent free air ball formation & ball shape uniformity Consistent ball size control. Ball shape uniformity. Proprietary process for superior sparking performance.

Note: Other standard or custom models available on request

Example Part Number: EFO - KNS 8028

Standard EFO Wands available for: ASM, K&S, Shinkawa, Kaijo, ESEC, Delvotec, ROHM, KEC and Toshiba bonders

ORDERING INFORMATION (PLEASE ADVISE QUANTIY FOR QUOTE OR ASSITANCE) ASM: ASM0309 For Bonder AB309

ASM0339 For Bonder AB339 & Eagle 60

ASM339C For Bonder AB339 & Eagle 60

ASM339D For Bonder iHawk

DELVOTEC: DEL6200 For Bonder 6200 & 6210

ESEC: ESE3000 For Bonder 3006, 3008, 3018 & 3088

ESE3100 For Bonder 3100

ESE3101 For Bonder 3100 (Cu + Au Wire)

KAIJO: KAJ0118 For Bonder FB-118

KAJ131B For Bonder FB-131

KAJ137A For Bonder FB-137

KAJ0170 For Bonder FB-170, FB-180 & FB-190

KAJ1000 For Bonder FB-1000

KEC: KEC180B For Bonder KWB2100

K&S: KNS1484 For Bonder 1484

KNS1488 For Bonder 1488

KNS1489 For Bonder 1488

KNS8021 For Bonder 8020

KNS8028 For Bonder 8028, Maxum & Nutek

KNS8098 For Bonder 8098 Ball Bumper

KNS8128 For Bonder 8028

ROHM: RHMBW01 For Bonder ZWBC1

SHINKAWA: SHK025A For BonderACB-25

SHK0035 For Bonder SDW-35

SHK0200 For Bonder UTC-200 & UTC-205

SHK0300 For Bonder UTC-300

SHK400A For Bonder ACB-400 & ACB-450

SHK1000 For Bonder UTC-1000

SHK2000 For Bonder UTC-2000

TOSHIBA: TOS0943 For Bonder HN943

---
ORDERING INFORMATION (PLEASE ADVISE QUANTIY FOR QUOTE OR ASSITANCE)

Standard EFO Wands Datasheet

Standard EFO Wands Brochure
---
BONDING CAPILLARIES & ACCESSORIES WE OFFER:
| UT NON-FINE PITCH CAPILLARIES QFN PACKAGE COPPER & GOLD WIRE BONDING CAPILLARY COPPER WIRE BONDING CAPILLARY ENHANCED STITCH BONDABILITY ADVANCED BONDING APPLICATIONS AZR LONG LIFE MATERIAL FOR CU WIRE BONDING INFINITY 3X LONGER TOOL LIFE | BALL STITCH ON BALL (BSOB) STUD BALL BUMPING SPECIAL CAPILLARY TAPER DESIGNS CAPILLARY UNPLUGGING WIRE (CUW) CAPILLARY UNPLUGGING PROBE (CUP25PB) EFO WANDS |
| --- | --- |