Copper Wire Bonding Capillaries (SU Series)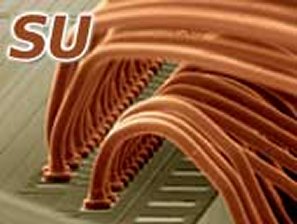 The history of copper wire bonding packaging interconnect can be traced back to the eighties, spurred then as an alternative to the costly gold. And for decades, SPT has been a leading supplier for numerous customers bonding with large copper wire diameters. Today, copper wire bonding has regained momentum as the semiconductor packaging industry looks for cost reduction alternatives due to rise in gold price, and is commanding more foothold, not only in low pin count discrete packages but fine pitch IC. Also, copper wire bonding offers other significant advantages over gold – superior performance in terms of electrical and thermal conductivity; better product reliability due to less inter-metallic growth causing voids; and higher break load during wire pull testing. However, it also comes with various bonding and process challenges such as oxidation of copper wire at low temperature, 'short tail', and 'fish tail' which is commonly associated with copper wire bonding interconnect assembly. A pioneer and a leader in wire bonding tool innovations, SPT has been in the forefront, involved in collaborations with many customers in their development of a new capillary for copper wire bonding application. SPT has taken its highly successful series, SI (Stitch Integrator) developed for enhanced stitch bondability to the next level, introducing SU – the capillary solution specifically tailored for copper wire bonding. The SU capillary – the new Standard for Copper - incorporates an excellent durable material with SPT's proprietary enhanced surface finishing with superior 'gripping' features to deliver high reliability stitch bonds for a wide range of copper wire bonding applications from fine wire 20µm to large wire of 100µm wire sizes. Bondability In copper wire bonding process, bond integrity at the interface between the stitch and leaded or laminate surface is measured by using a wire pull tester. The bonded wire is pulled as close as possible to the stitch, and the pull test strength reading (in gram-force) is taken. Expectedly, the higher pull test strength value is desired, and a remaining stitch failure mode is indicative of a good bond at the interface. Table A- shows the stitch bond superiority of the SU capillary as the stitch pull test reading is significantly better compared with other capillary finishing types using the same wire bonding parameters, package & device, and copper wire size.

Productivity & Reliability SU capillary has been proven to improve the bondability of the stitch bond while minimizing the occurrence of short tail defects and non-sticking on lead during wire bonding process as shown in Table B. The significant reduction of short tail and non-stick on leads result into increased production output due to lower mean time before assist (MTBA).

Customer Tested: SPT's new SU capillary is the result of extensive research & customer tested solutions to meet today's copper wire bonding packaging process. SU is the new standard for a robust copper wire bonding process.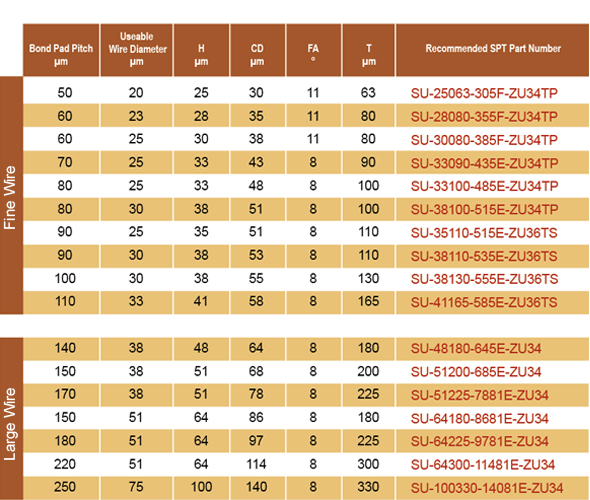 Capillary Part Number Selection Guide
The capillary design selection guide is always based on specific device & package configuration, wire type, and wire bonder. The selection of capillary part number process is simplified as follows: Capillary Tip The selection of capillary tip design is determined by the device and metallization, bond pad pitch, bond pad opening, wire size, target mashed ball diameter, and critical loop height to derive the hole diameter(HD), chamfer diameter (CD), chamfer angle (CA), tip diameter (T) and face angle (FA). Shank Style The shank style selection is characterized by geometrical design of the capillary bonding tool as dictated by specific device and / or package configuration. Surface Finish The selection of a particular capillary tip surface finish hinges on whether the application is for gold or copper wire bonding. Material Capillary material selection for optimum tool life performance for a given bonding application. Wire Type The proper selection of capillary design is a resultant of the various wire bonding considerations.

Fine Pitch Part Number Selection
Infinity 3X Longer Tool Life
SPT 'Infinity' capillary material extends the tool life up to 3X its original tool life. This option is available on many tools and is a proprietary process SPT use to increase tool life. ORDERING INFORMATION (PLEASE ADVISE REQUIREMENTS & QUANTIY FOR QUOTE OR ASSITANCE) Part Number - SU Copper Wire Bonding Capillaries


SU Copper Bonding Capillaries Brochure
---
BONDING CAPILLARIES & ACCESSORIES WE OFFER:
| UT NON-FINE PITCH CAPILLARIES QFN PACKAGE COPPER & GOLD WIRE BONDING CAPILLARY COPPER WIRE BONDING CAPILLARY ENHANCED STITCH BONDABILITY ADVANCED BONDING APPLICATIONS AZR LONG LIFE MATERIAL FOR CU WIRE BONDING INFINITY 3X LONGER TOOL LIFE | BALL STITCH ON BALL (BSOB) STUD BALL BUMPING SPECIAL CAPILLARY TAPER DESIGNS CAPILLARY UNPLUGGING WIRE (CUW) CAPILLARY UNPLUGGING PROBE (CUP25PB) EFO WANDS |
| --- | --- |