Die Pickup & Placement Tools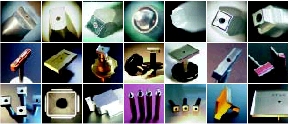 Manual, semi-automatic or full automatic die assembly processes always require a specific tooling set. The selection of a suitable tool is a matter of experience and knowhow. SPT is the right choice for pick & place tools. We can offer advice and tool type recommendations for your project and even provide custom solutions where required.

Our vacuum pick-up tools from SPT (Small Precision Tools) are available in a wide range of materials including - Rubber, Plastic, Metallic, Tungsten Carbide or Ceramic. Used in a huge range of applications, we offer many variations on tool styles which allow use with very fragile die and also in high temperature applications and when ESD requirements are needed.
Tool Styles Available:
Replaceable Tips
RTR/HRTR PICKUP TIPS RTR-D2/RTR-D3 FRAGILE PART PICKUP TOOLS FCTR/PCTR PURE CONICAL TIP RUBBER RPCT REPLACEABLE PLASTIC PICKUP TOOLS CT CONICAL PICKUP TOOLS RT RECTANGULAR PICKUP TOOLS ST SILICONE TIP PICKUP TOOLS SC & HSC SUCTION CUP PICKUP TOOLS
Single or 2 Piece Construction Tools
CT CONICAL PICKUP TOOLS RT RECTANGULAR PICKUP TOOLS ST SILICONE TIP PICKUP TOOLS SC & HSC SUCTION CUP PICKUP TOOLS DIE COLLETS - 2 SIDED and 4 SIDED DIE COLLETS - PERIPHERAL DIE COLLETS
Flip Chip Handling Tools
Due to the increased integration availability of bumping connection, the Flipchip technology has become a popular assembly technique. FCTR/PCTR PURE CONICAL TIP RUBBER
Custom or Special Application Tools
Special tools can be manufactured for your specific application. Have a look at our gallery to get better idea of how we can help you get the right tool for the job.

Pickup Tool Material Options
DIE & COMPONENT PICKUP TOOLS WE OFFER:
| CT CONICAL PICKUP TOOLS 2151-CT THREADED REPLACEABLE CONICAL TIP RT RECTANGULAR PICKUP TOOLS RTR/HRTR PICKUP TIPS RPCT REPLACEABLE PLASTIC PICKUP TOOLS FCTR/PCTR PURE CONICAL TIP RUBBER RTR-D2/RTR-D3 FRAGILE PART PICKUP TOOLS | 2 SIDED DIE COLLETS 4 SIDED DIE COLLETS PERIPHERAL DIE COLLETS (PL) SC & HSC SUCTION CUP PICKUP TOOLS ST SILICONE TIP PICKUP TOOLS SPECIAL / CUSTOM PICKUP TOOLS SHANK STYLES AND TIP HOLDERS |
| --- | --- |