Replaceable Plastic Conical Tip Pick-up Tools
The replaceable Delrin tips are molded ( the smaller sizes) or machined to requested face diameter. The standard family ranges from the size 030 mils to 090. For smooth and confortable installation and removal of the RPCT tip we recommend to use the SPT shank with tight cylindrical stud tolerance.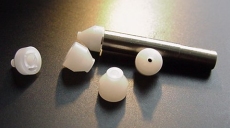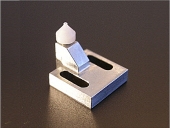 RPCT : Replaceable Plastic Conical Tip Delrin When and Why to use RPCT: Molded to Final Shape Very Reproducible Parts Economical Replacement Tips No Sticky Die Effect Color : White Material : Delrin Temperature Resistance up to 130° C SPT proposes by default white Delrin replaceable tips which possess a very low friction coefficient while harder than conventional rubber tips. Delrin is a good material alternative when facing "sticky die" problem. SPT greatly recommends the molded Delrin sizes which are more economical and have a smoother geometry transition than machined tips, thus preventing damage to the die surface. Delrin can be used to temperature up to 135°C. For smooth and comfortable installation or removal of the RPCT tip on cylindrical stud shank, we recommend to use SPT tight tolerance shank styles. For other available RPCT plastic materials please see the materials page.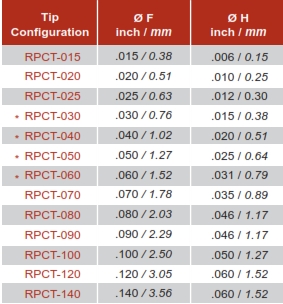 ORDERING INFORMATION (PLEASE ADVISE REQUIREMENTS & QUANTIY FOR QUOTE OR ASSITANCE) Part Number - Replaceable Plastic Conical Tip Pickup Tools (RPCT)


RPCT Pick-up Tools Datasheet
DIE & COMPONENT PICKUP TOOLS WE OFFER:
| CT CONICAL PICKUP TOOLS 2151-CT THREADED REPLACEABLE CONICAL TIP RT RECTANGULAR PICKUP TOOLS RTR/HRTR PICKUP TIPS RPCT REPLACEABLE PLASTIC PICKUP TOOLS FCTR/PCTR PURE CONICAL TIP RUBBER RTR-D2/RTR-D3 FRAGILE PART PICKUP TOOLS | 2 SIDED DIE COLLETS 4 SIDED DIE COLLETS PERIPHERAL DIE COLLETS (PL) SC & HSC SUCTION CUP PICKUP TOOLS ST SILICONE TIP PICKUP TOOLS SPECIAL / CUSTOM PICKUP TOOLS SHANK STYLES AND TIP HOLDERS |
| --- | --- |