Rectangular & Square Tip Die Pick-up Tools
Rectangular ( or square) Tip Pick-up tools do not have replaceable tips. The body is mostly made by the assembly of a stainless steel holder into which the tip, made from another material is pressed. Other options are gluing or brazing if both materials are compatible. For small tip size ( < 0.4) , we recommend to use tungsten carbide (W) base material. Depending on the shank type configuration, the tool may be made from 1 single piece. This is generally the case for cylindical shanks with W tip material.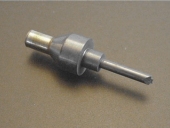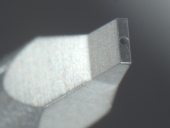 The rather simple geometry of a standard RT tool is frequently adapted to meet more specific requirements. Ultra-thin die or MEMS containing delicate structures, like membranes or air gaps, must be handled with more sophisticated tools. Multi-holes or porous tip material, together with diverse vacuum distribution designs, belong to this tool category. Special face configurations are possible like Multi-Hole for thin die handling or off-center vacuum holes for surface sentive or membrane die types.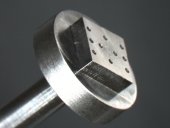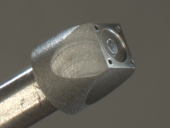 When and Why to use RT: Various Choice of Tip Material Available in Very Small Tip Size Various ESD safe Tip Material Easy Tool Access to Substrate Various High Temp Resistant Material Reduced Risk of Die Rotation (compared to CT Style Tools)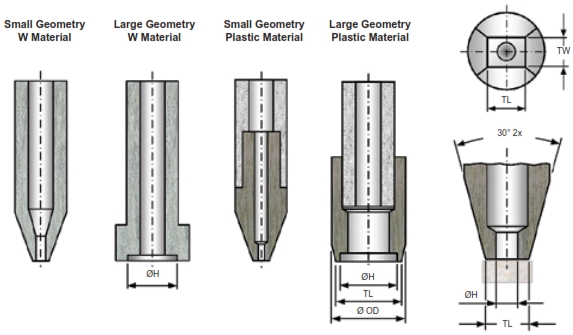 ORDERING INFORMATION (PLEASE ADVISE REQUIREMENTS & QUANTIY FOR QUOTE OR ASSITANCE) Part Number - Rectangular Tip Die Pickup Tools (RT)


RT Pick-up Tools Datasheet
DIE & COMPONENT PICKUP TOOLS WE OFFER:
| CT CONICAL PICKUP TOOLS 2151-CT THREADED REPLACEABLE CONICAL TIP RT RECTANGULAR PICKUP TOOLS RTR/HRTR PICKUP TIPS RPCT REPLACEABLE PLASTIC PICKUP TOOLS FCTR/PCTR PURE CONICAL TIP RUBBER RTR-D2/RTR-D3 FRAGILE PART PICKUP TOOLS | 2 SIDED DIE COLLETS 4 SIDED DIE COLLETS PERIPHERAL DIE COLLETS (PL) SC & HSC SUCTION CUP PICKUP TOOLS ST SILICONE TIP PICKUP TOOLS SPECIAL / CUSTOM PICKUP TOOLS SHANK STYLES AND TIP HOLDERS |
| --- | --- |