Products For Aerospace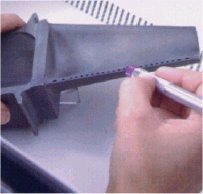 We offer a couple of products suited for use in the Aerospace Industry.
Micro Abrasive Blast Equipment
Our range of Comco Microblasters are perfect for cleaning, deburring, texturing and conformal coat removal (for reworking PCBs). Microblasters are also perfect for reconditioning turbine blades. Other aerospace applications include: Bonding HUD optics ConnectorsInjection mold cavities – texturing the surface of a cavity on a new mold to hide splay lines, flow lines, knit lines, blush marks and other moulding flaws Load cells
Components
Mini-Systems Inc supply a range of high reliability resistors that are QPL qualified parts in use in all manner of electronic devices. The MIL55342 resistors are qualified parts and all MSI parts are made on the QPL production line.
Adhesives & Thermal Films
We have a range of epoxies, adhesives and thermal management materials that are designed to be low stress, high performance materials. We have many standard products that are NASA/ESA approved and/or MIL-STD 883C Method 5011.4 Qualified Adhesive Products. AIT offers some of the most advanced Die Attach paste adhesives engineered to improve long-term reliability, rapid inline curing, long pot-life, viscosity and thixotropic control for fast automated dispensing and manufacturing. Some of the following representative products have a demonstrated record of more than 20 years of reliability for military and aerospace applications.
Anti-static Products
For safe protection of ESD sensitive devices we have a range of Esion DC plate Anti-static cabinet and Standard Acrylic cabinets fitted with earthed Stainless Steel shelves. These are available in a range of standard and custom sizes to suit your requirements.
C02 Cleaning Equipment
CO2 cleaning and machining technology offers aerospace material and process engineers with a robust surface treatment platform and window for a variety of critical substrates and microscopic features. Surface and substrate contamination such as particulate matter, outgassing residues, ionics, and heat can be addressed with this technology. Available treatment processes include composite jet spray, centrifugal immersion, supercritical fluid extraction, critical drying, and both vacuum and atmospheric plasma treatment. CO2 technology eliminates or significantly reduces both lean and green waste generation at the production operation level (source) by modifying manufacturing processes such as precision cleaning and machining. Because it is safe and dry, CO2 technology can integrate directly into manufacturing processes and tools to provide in-situ cleaning, thermal control or lubrication.

Our CO2 technology can be implemented in a variety of process configurations to meet the constraints of lean production layouts and product flow requirements, including direct integration into existing production lines and equipment where the surface contamination is being generated. CO2 is a very unique manufacturing agent that affords multiple cost reduction and performance improvement opportunities.

Micro-abrasive Aerospace Applications
PRODUCTS FOR MUSEUMS, ART GALLERIES & CONSERVATION:
| MICRO ABRASIVE BLASTERS EPOXIES & ADHESIVES QPL THICK FILM RESISTORS CO2 CLEANING EQUIPMENT | ANTI-STATIC STORAGE CABINETS THERMAL MANAGEMENT MATERIALS MIL-STD 883C 5011.4 COMPLIANT MATERIALS NASA OUTGASSING COMPLIANT MATERIALS |
| --- | --- |
Call us for further information or details on how we can help.