Orange UV Filter Glasses
UV light is extremely hazardous and can cause many problems including eye irritation, and longer term eye damage and cause cateracts. Our SAFE-T-CURE ORANGE UV FILTER GLASSES provide the best protection by blocking UV exposure up to 400nm and blocking "blue light" between 400 and 510nm. The harmful blue light can cause eye irritation and damage especially when taking photo-sensitizing medication.
- Amber/Orange glasses reduce eye fatigue by absorbing most of the visible violet and blue light spectrum's. - Enhances visual clarity during curing and inspection processes. - Wearable over prescription glasses. - Absorbs 99% of UV radiation and visible light up to 510nm. - Orange is a secondary colour comprised of red and yellow, so it provides some benefits from both colours. - The glasses are supplied in a protective slip case to keep them scratch free and clean whilst not in use.
Our Orange UV Filter Glasses are fully CE compliant and meet OSHA requirements and ANSI Z87.1. Sold individually or 24/case.
Normally available from stock.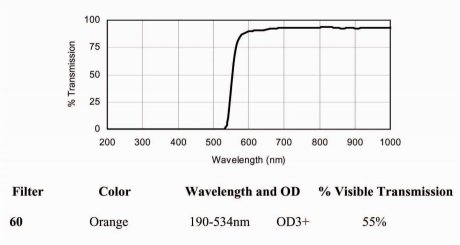 Ordering Information:
Part Number:
I005-017 Orange UV Safety Glasses
Description:
inc Case, CE
Datasheet: