UV CURING EQUIPMENT SPARES & REPLACEMENT PARTS
We offer many spare parts for UV curing systems including power supplies, lamp holders, reflectors, mirrors, mercury relays and many other useful parts to repair, refurbish and keep your uv system operating in an efficient way. See below for more details. HOT AND COLD UV MIRRORS QUARTZ FILTER MATERIAL HEAT RESISTANT SEALANT UV LAMP POWER SUPPLY CAPACITORS AIR KNIVES HEAT SINK COMPOUND MERCURY RELAYS UV LAMP HOLDERS
HOT AND COLD UV MIRRORS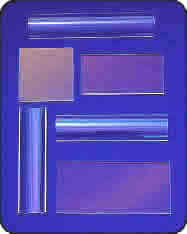 We distribute a wide variety of standard and custom UV/mirrors/reflectors and IR Hot Mirrors. Our manufacturing facilities use only the best coating process and highest quality materials available. We currently offer thin film coatings on fused quartz or on many Borosilicate types of glass. Our technical sales team can accomodate customers with established cold UV technology solutions as well as assiting other OEM's who are new to cold UV applications. We are always available to help with any new designs or concepts that require the assistance and skills of our manufacturing engineers. Reflectance (%) and Transmittance (%) vs. Wavelength (nm) Cold UV Mirrors are available in flat or curved profiles on fused quartz, with angles of incidence of 0, 21, or 45 degrees. Transmittance (%) and Reflectance (%) vs. Wavelength (nm) IR (hot) Mirrors are presently only available on flat fused quartz with either 0 or 45 degree angles of incidence. Special custom coatings with custom angles of incidence may be available, please enquire.
ORDERING INFORMATION
Part Number - A002-018 MERCURY CLEAN-UP KIT

QUARTZ FILTER MATERIAL

Quartz glass offers a variety of UV filtering, transmission and temperature resistance qualities to suit individual applications. Choose from a full range of QUARTZ FILTER MATERIAL in custom-cut sheet form that meet and exhibit specific wavelength characteristics based on the specifications you provide. Whether you require UV or IR filtering characteristics, we can supply the right material. These quartz sheets are offered as a replacement part of OEM equipment, and are custom made to supplied specks. We offer a variety of quartz materials and competitive pricing, for both small and large quantities. Please call us or email info@uvps.com for a quote.
ORDERING INFORMATION
Part Number - A007-001 QUARTZ FILTER MATERIAL (Please advise your requirement)

HEAT RESISTANT SEALANT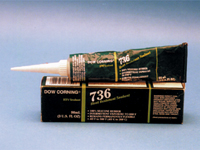 Made of 100% silicone rubber, HEAT RESISTANT SEALANT serves as an effective adhesive for resealing wire ports within your curing unit and power supply. The sealant remains permanently flexible and can withstand temperature from -85° to 500° F (-65° to 260° C). Resists intermittent exposure to 600°F. Available in 90mL/3 oz tube.
ORDERING INFORMATION
Part Number - A005-008 HEAT RESISTANT SEALANT

FIBERGLASS SLEEVING
CON-TROL-CURE® Braided FIBERGLASS SLEEVING is designed to protect heat sensitive wiring from high temperature applications to 1200°F. It also provides additional insulation protection for high voltage wires. It is extremely flexible, tightly braided, non-flammable, class-C fiberglass. The glass braid is fray resistant and non-corroding. The durable material does not support combustion or fungus growth. Available in I.D. sizes: 0.022" to 1.018" Stock size is .186 available by the foot. All other sizes are sold by 100 foot roll. Standard Colour: Natural. Additional colours available to order.
ORDERING INFORMATION
Part Number - A005-030 FIBERGLASS SLEEVING

CAPACITORS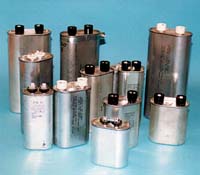 By controlling voltage output of your UV curing system's power supply, CAPACITORS are a critical component to consistent curing performance. The complete line of CON-TROL-CURE® Capacitors suits the specific switching requirements of most power supplies available today. If you aren't sure of your specific needs, we can help you determine which unit or combination of units would best suit your needs. We are confidant that we can obtain any capacitor(s) you need. Visit our web site or call us to place your capacitor request today. SPECIFICATIONS: • Voltage Range: 440-3000V • Micro Farads Range: 0.5-18.5µF • Bushing Options: HW cup, STD cup, MW cup CONTACT US FOR MORE INFORMATION ABOUT CAPACITORS FOR YOUR SPECIFIC APPLICATION.
| A004-010 CAPACITOR:370V 3uFD A004-011 CAPACITOR:370V 5MFD A004-012 CAPACITOR:370V 7.5MFD A004-013 CAPACITOR:370V 10 MFD A004-080 CAPACITOR:400V 24MFD A004-090 CAPACITOR:550V 17MFD A004-100 CAPACITOR:660V 2.5MF A004-101 CAPACITOR:660V 3MF A004-102 CAPACITOR:660V 5MF A004-103 CAPACITOR:660V 6MFD A004-103B 6" MINI CAP 6MFD 660V A004-104 CAPACITOR:660V 7MFD A004-105 CAPACITOR:660V 8MF A004-106 CAPACITOR:660V 10MFD A004-107 CAPACITOR:660V 12MFD A004-107B 6" MINI CAP 12MFD 660V A004-108 CAPACITOR:660V 15MFD A004-109 CAPACITOR:660V 18MFD A004-110 CAPACITOR:660V 25MFD A004-200 CAPACITOR:1000V 3.6MFD A004-201 CAPACITOR:1000V 12MFD | A004-202 CAPACITOR:1000V 3.0MFD A004-300 CAPACITOR:1600V 1.5MFD A004-301 CAPACITOR:1600V 6MFD A004-400 CAPACITOR:1800V 1.2MFD A004-401 CAPACITOR:1800V 2.8MFD A004-500 CAPACITOR:2500V 0.75MF A004-501 CAPACITOR:2500V 1MFD A004-502 CAPACITOR:2500V 1.2MFD A004-503 CAPACITOR:2500V 2MFD A004-504 CAPACITOR:2500V 2.4MFD A004-505 CAPACITOR:2500V 2.8MFD A004-600 CAPACITOR:3000V 1.4MFD A004-601 CAPACITOR:3000V 1.75MF A004-602 CAPACITOR:1400V 11.5MF A004-603 CAPACITOR:3000V 3MFD A004-604 CAPACITOR:2500V 4MF A004-700 CAPACITOR:4000V 0.6MFD A004-701 CAPACITOR:4000V 0.45MF A004-702 CAPACITOR:4000V 0.85MF A004-703 CAPACITOR:4000V 1MFD A004-704 CAPACITOR:4000V 1.8MFD |
| --- | --- |
ORDERING INFORMATION
Part Number - A005-XXX CAPACITOR (Please advise specification from table above)

AIR KNIVES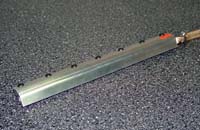 The CON-TROL-CURE® AIR KNIVES are a quiet, energy-efficient way to cool substrates as they exit the cure chamber. Utilizing the coanda effect to create high velocity air motion, the Air Knife requires only minimal compressed air as its power source. As compressed air flows through the inlet and into a plenum chamber, it is throttled through a thin nozzle extending the length of the Air Knife. This primary air stream adheres to the coanda profile which turns it 90°, and directs it to flow down the face of the knife. The primary stream immediately begins to entrain surrounding air, while velocity loss is minimized through the wall attachment effect. Interaction of the ejected and entrained air dampens "air shear", reducing noise levels dramatically. The result is a high velocity, high volume sheet of air achieved at minimum noise level. Entrained air to compressed air ratios of 30:1 are achieved with this unique knife. Compared to a 3:1 ratio for drilled or slotted pipe, you can achieve an air savings of 40 to 90%! Available in lengths of: 6", 12", 18", 24", 30", and 36".
ORDERING INFORMATION
Part Number - A005-009 AIR KNIFE 6 Inch

Part Number - A005-010 AIR KNIFE 12 Inch

Part Number - A005-011 AIR KNIFE 18 Inch

Part Number - A005-012 AIR KNIFE 24 Inch

Part Number - A005-013 AIR KNIFE 30 Inch

Part Number - A005-014 AIR KNIFE 36 Inch

FANS FOR UV SYSTEMS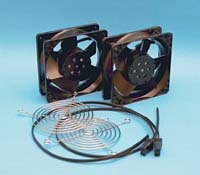 Effective reflector, lamp housing and power supply cooling are critical to ensuring consistent cure results and equipment performance. These highly durable FANS FOR UV SYSTEMS can be fully integrated into any current UV lamp housing or power supply. Exceptional quality rotor motor has yielded years of exceptional performance. Offers optimum cooling and extended in-field life. Can be fully integrated with speed controllers. Locked rotor protection. Must be grounded in accordance with current regulations. ISO 9001 compliant. UL, CSA, VDE approved. Finger guards and electrical plugs must be ordered separately. The High Performance Cooling Fan (A005-016) is ideal for larger reflectors, lamp housings and power supplies. At 230V, it provides maximum air volume for excellent cooling results. Field-tested, all-metal construction has produced years of exceptional performance. Allows full integration into any curing system and/or speed controller. The Standard Cooling Fan (A005-007) incorporates a light, internal rotor motor and plastic impeller for quick starts at full speed. At either 220V or 240V, it is ideal for power supplies and quick starting curing systems requiring little to no warm-up period. Highly durable, low-vibration metal housing easily integrates into any curing system housing or power supply encasement.
ORDERING INFORMATION
Part Number - A005-002 FAN 5606S

Part Number - A005-005 FAN FINGER GUARD

Part Number - A005-006 FAN ELECTRICAL PLUG

Part Number - A005-007 STANDARD COOLING FAN

Part Number - A005-016 HIGH PERFORMANCE COOLING FAN

HEAT SINK COMPOUND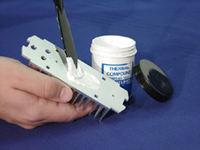 When installing electrical components within your power supply or lamp housing, CON-TROL-CURE® HEAT SINK COMPOUND can help minimize the risk of heat damage and prevent discoloration, warping, buckling, or other distortion of light gauge metals. It confines heat to the welding, brazing, or soldering zone, protecting adjacent areas from destructive heat build-up. Harmless to skin, odorless and non-toxic, it will not stain the base metal. To clean, wipe off excess and wash with water. Available in 8 oz tub.
ORDERING INFORMATION
Part Number - M005-022 HEAT SINK COMPOUND

MERCURY RELAYS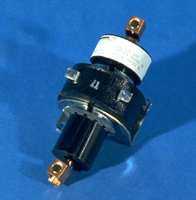 CON-TROL-CURE® stocks hard-to-find MERCURY RELAYS designed to handle the high power needs of UV lamp switching. Excellent for use with UV curing lamp controls and panel safety switching. Contactors are hermetically sealed with high quality glass to metal seals. Easily mounted on most enclosure panels, these relays offer the dependability of mercury technology. Terminals are standard pressure connectors and leads are 5000V AC rated. OPTIONS: • 10A, 15A, 30A, 35A, 60A, 100A • Normally Open or Normally Closed Terminal • Single or 2 Pole • 120V or 220V, 50/60 Hz Coil Voltage • Standard or Universal mount
ORDERING INFORMATION
Part Number - A042-001 RELAY MERCURY 220V

Part Number - A042-002 RELAY MERCURY 11OV NC

Part Number - A042-003 RELAY MERCURY CUSTOM (Please advise requirements)

Part Number - A042-004 RELAY MERCURY 240V

Part Number - A042-005 MERCURY RELAY 100A

UV LAMP HOLDERS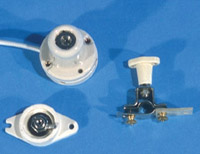 Select the right replacement UV LAMP HOLDERS for your metal and ceramic end lamps. We offer 3 different models which are OEM-compatible replacements for a variety of UV curing systems. Canrad-Hanovia Reference: Spring Socket, Catalog No. 32386.101, Solid Socket, Catalog No. 32370.101
ORDERING INFORMATION
Part Number - A022-001 ASSEMBLY SOCKET (SOLID)

Part Number - A022-004 ASSEMBLY SOCKET (SPRING)

Part Number - A112-002 LAMP HLD RPC/PPG

UV CURING EQUIPMENT:
| UV MEASUREMENT UV LED LAMPS UV CURE CHAMBERS UV FILTERS & GLASSES OZONE DETECTION | REFLECTORS UV SPOT CURE LAMPS CURING EQUIPMENT SPARES UV LAMPS MERCURY CLEAN UP PAD |
| --- | --- |