Adhesives & Epoxies - stress free and electrically conductive & non-conductive materials films and greases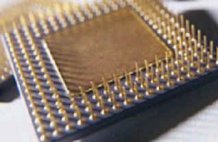 Die, Substrate and Component Attach Materials
AI Technology, Inc. pioneered the use of flexible die-attach film and paste adhesives for larger chip and die bonding in the early 1980s. The company has since found success in extending its adhesive line to offer the widest selection in the industry. AIT adhesives have been designed for a combination of performance and manufacturing efficiency. The following are a few examples:
Die Attach Paste Adhesives
To achieve the highest level of ease in component soldering operations without pre-baking, AIT die-attach pastes have been engineered with a molecular structure of low moisture absorption. This low moisture absorption is reflected in the consistent bond strength under extreme moisture exposure.
Paste Die Attach Paste Moisture Stability
With the increased usage of lead-free soldering, high temperature stability is critical. Low weight loss is engineered in AIT die-attach paste adhesives using a stable molecular structure. The following weight loss measure is a good indicator of the ability of AIT die-attach pastes to withstand higher temperature soldering operations and long-term high temperature applications.
Die Attach Paste Thermal Stability
To enhance the productivity of die-attach operations, AIT die-attach pastes for high volume applications have been designed with 100% solids without diluent or solvent. The use of fast curing agents enables the adhesive to cure rapidly. AIT die-attach pastes are ideal for in-line curing manufacturing without additional post curing.
Rapid Curing Die Attach Pastes
Long Pot Life Pastes
AIT also designed a die-attach paste with long pot-life for high volume applications to ensure success in manufacturing operations.

For more information, recommendations and assistance, please contact us below for sales and engineering information: A range of flexible epoxy, thermosetting or thermoplastic materials for COB, MCM, TAB, LSI plastic, LSI ceramic, VLSI plastic, VLSI ceramic die attach. AIT has many proven epoxy paste adhesives for thermal management in component and substrate attachment. AiT Die Attach Materials Die Attach Pastes Die Attach Films Substrate and Component Attach Substrate Film Adhesives Component & Substrate Paste Adhesives Die, Substrate and Component Attach Materials CONTACT US FOR DIE PASTE & FILMS INFORMATION & PRODUCT SELECTION

Need an N.D.A. (non-disclosure agreement), no problem, just get in touch.
ADHESIVES, EPOXIES AND FILMS AVAILABLE:
| Automotive Electronic & Electrical Adhesives Coatings & Protection CPU Cooling - COOL-SILVER™ Custom Material Solutions Dicing, Lapping and Grinding Tapes Die, Substrate and Component Attach Materials Lid Seal Solutions Thermal Management Materials | EMI, RFI and ESD Shielding and Protection Flex Circuit Materials LED Materials MIL-STD 883C 5011.4 Compliant Materials NASA Outgassing Compliant Materials Optical and Optoelectronic Materials Solar Panel Materials Underfill and Encapsulation Materials |
| --- | --- |