MSI Resistor Applications and Industries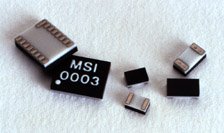 Thick Film Chip Resistors:
Applications and fields where the Mini-Systems Inc Thick Film Resistors are used includes:
HIGH RELIABILITY MICROELECTRONICS
When performance and reliability are key design factors, MSI have been supplying resistors for microelectronics and integrated circuits used in military, space and medical applications. All MSI parts are processed on the QPL production line and are made to the same meticulous manufacturing capability required to meet and exceed MIL-PRF-55342. Additional testing and verification is available including Group A, Group B, Group C and Solderability Testing.
MILITARY APPLICATIONS
Mini-Systems Inc have been at the forefront of MIL-PRF-55342 military grade resistors as a key business area since 1968. MSI parts have been used in F-18 fighters, MX (Peacekeeper) Missiles, Patriot and Trident missiles amongst others. MSI have also been awarded the highly prized recognition as a "Platinum Supplier" for Northrop Grumman.
SPACE & SATTELITE
Mini-Systems Inc Resistors have been used in the Mariner and Voyager Space Program Satellites and the Space Shuttles. QPL Approved to MIL-PRF-55342,"T" Space Level Qualified. Also implemented in many ESA satellite programs.
MEDICAL IMPLANTABLE
MSI resistors are used in pacemakers more correctly known as an artificial cardiac pacemaker, a medical device that uses electrical impulses to regulate the beating of the heart.
BIOTELEMETRY
Bio-telemetry (or Medical Telemetry as it is sometimes known) involves the application of telemetry in the medical field to remotely monitor vital signs of patients. The most common use for bio-telemetry is in cardiac care telemetry units in hospitals. Although virtually any physiological signal could be transmitted, application is typically limited to cardiac monitoring and pulse oximeter oxygen saturation (SP02) where oxygen saturation is measured by pulse oximetry and spot oxygen saturation.
MICROWAVE
High speed, high frequency circuits and systems need resistors capable of operating at high frequencies when operating at RF and microwave frequency levels. Typically found and used in many RF, microwave, communications, solid-state devices and radar applications.
SURFACE MOUNT
Surface-mount resistors are commonly used in Surface-mount technology (SMT). They are usually mounted or placed directly onto the surface of printed circuit boards (PCBs) and attached using solder, solder pastes or wire bonded when they are placed into a package for hybrid manufacturing. Mini-Systems Inc offer a wide range of case sizes including their smallest resistor the 0.012" x 0.009" (0.MSMR1.
NAVIGATION
MSI precision chip resistors are ideal for use in navigation and avionics instrumentation when excellent stability, tight tolerances, and low temperature coefficient of resistance (TCR) is needed.
MCMs
Multi-Chip Module (MCM) is an electronic package where multiple integrated circuits (ICs), semiconductor dies or other discrete components are packaged onto a single substrate for use as a single component (as though a larger IC).
HYBRID
Hybrid integrated circuits, hybrid microcircuits, or simply called hybrid is a miniaturized electronic circuit constructed of individual devices, such as semiconductor devices (e.g. transistors and diodes) and passive components (e.g. resistors, inductors, transformers, and capacitors). These are normally bonded to a substrate or printed circuit board (PCB) and are often encapsulated in epoxy for protection.
RESEARCH
We supply a lot of resistors to companies carrying out R&D (Research and Design). MSI also offer Resistor & MOS Chip Capacitor Kits from their surface mount resistors (WATF series), wire bondable resistors (MSTF series) and (MSCC series) thin film MOS chip capacitors.
COMMUNICATIONS
MSI offer termination resistors that are used in communications normally to prevent signal reflections which can cause false signals. Depending on the frequency of the signal being sent and the length of the line, there may be a need for it to be terminated with a termination resistor equal to its characteristic impedance to avoid problem reflections. These reflections are caused when the energy in the pulse travelling down the line is not completely absorbed by the load at the end of the line.
CRYOGENICS
Cryogenics is the study of very low temperatures (below −150 °C, −238 °F or 123 K) and the behavior of materials at those temperatures. Cryogenicists use the absolute temperature scales rather than relative temperature scales of Celsius and Fahrenheit. These are Kelvin (SI units) or Rankine scale (Imperial & US units). ISO 9001 Certified. MSI has been a leading manufacturer of Precision Hi-Reliability Chip Resistors for more than 40 Years. Quick response to critical requirements and quick response to questions by knowledgeable sales and engineering staff are keys to providing the unsurpassed service our customers have learned to expect. MSI's products are designed for superior solder fillets for optimum performance in the area of stability, solderability, adhesion, power dissipation and life. Q.P.L. approved to all MIL-PRF-55342 style parts including the /1 part. "S" Failure Rate Qualified. There is no compromise in our effort to manufacture only the best products. Industry leading manufacturing practices have forged the way for MSI's technological superiority. We produce products that are in use in virtually all industries that require precision; see the article, Anatomy Of A High Reliability Thick Film Resistor which describes Mini-Systems' perfected assembly process. Also, for 2006 MSI has AGAIN been awarded the title, "GOLD SUPPLIER" by Northrop Grumman Space Technology Systems for the 3rd year. TRW's choice of MSI was made from among 1185 suppliers. MSI Components - Thick Film & Thin Film Resistors, Attenuators, MOS Chip Capacitors, Networks, Jumpers & Patterned Substrates MSI Resistor Applications MSI MIL-PRF & MIL-STD Testing Available